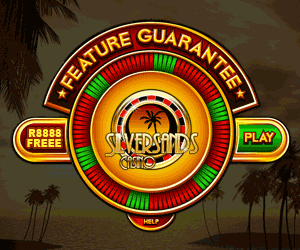 There is a wide variety of casino slots on offer at Silversands Online Casino that include popular ones such as Progressive Jackpots, Three Three Line, and Five Line.
An exciting feature included in a lot of these games is the Slots Feature Guarantee. Essentially, once you spin a certain number of times, you are assured of benefits such as free spins that have a higher rate of multiplication as compared to the bets you placed originally.
No doubt, all players have fallen in love with this feature, especially since the Slots Feature Guarantee assures them of its appearance, without having to remain in a state of doubt.
Playing casino slots is really simple – after logging in, choose Slots from the menu below. You will see all the available Slot games. Choose the one you like by clicking on it – relevant information will then appear on-screen to help you make up your mind on playing that game or to avoid doing so.
You can go directly to the software download page to play Casino Slots or other games.
And remember that with Silversands Online Casino, you have the easy choice of either playing for real money or simply for enjoyment with free slots.
Take advantage of R100 Free when you play on Ghost Ship Slots.
Ideally, it is better you choose the free casino slots option at the outset, especially if you are a rookie. As you become a pro, you can start playing with real money. Till then it is better that you get some practice to essentially learn the ropes and get better at what you are doing.
Moreover, it is really a breeze to play Silversands Online Casino – the only requirement is that you download its software; once you do so (which is completely free with no credit card details required or any kind of payment to be made), you are good to go to start playing immediately.
Over time, once you feel you have learnt the ropes adequately, you can easily switch to playing with real money. This would be especially relevant if you find yourself getting lucky and winning big (why lose out with imaginary money then, when you can win big with REAL money?!).
Once you have downloaded the software, you can try your luck on other games as well. For instance there are other Table games like Roulette and Blackjack on offer as well – if you have a good knack for these games, you can easily consider playing them, again either with real money or simply for fun.
In essence, you will find the Silversands software to be truly intuitive with ample information available to guide you at every step along the way. Moreover, there is so much choice on offer as far as overall games are concerned that you will easily be able to sit back and play the game of your choice, wherever you may be.
If you run out of credits to play, you can easily top up your account by visiting the cashier who will then add virtual credits to it free of cost. Of course, as we mentioned, if you switch to real money, then too if you run out of credits, you can top up with real cash.
Choose REAL if you want to play at Silversands casino and win real money or choose FUN if you simply want to get a better feel for the games before you decide to play for real. Remember, when you need to make a deposit, simply visit the cashier for both fun and real play casino games.
Either way, at Silversands you never run out of fun! And anytime you need credits – real or virtual, the cashier is there at your disposal.
Of course, as players themselves would vouch for, Slot machines are among the simplest to play – and therefore, extremely popular. Playing them is a real breeze – put in money into the machine (real or virtual), use your computer mouse to pull the lever (or simply press the Spin button) and presto, the slot machine will appear upfront with the results of your spin…never know when you get lucky! On the real series, you can even choose the lines you want to play with a maximum of 25 lines that you can choose. If you don't even want to do that, there is always the Autoplay feature that you can use to play for you. Of course, all games come with adequate tutorials to help you along, with 24/7 friendly support there by your side for additional assistance.
There are a number of  slot games at Silversands which you can choose from that include:
GOLDEN LOTUS GAME SUMMARY
Volatility: Medium
Theme: Chinese
Number of Lines: 25 Lines
Slots Feature: Chinese Garden Feature & White Lotus Feature
Substitutle: Golden Lotus
Jackpot: Local Progressive, Random (Minor, Major)
Scatter: White Lotus
TRITONS TREASURE GAME SUMMARY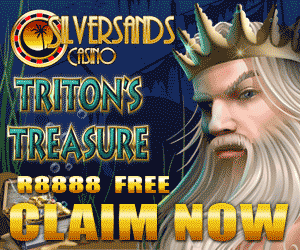 Volatility: Medium
Theme: Triton and Mermaid
Number of Lines: 25 Lines
Slots Feature: Free Games
Substitutle: Kind Triton
Jackpot: Local Progressive, Random (Minor, Major)
Scatter: Yes – Mermaid
LOOSE GABOOSE GAME SUMMARY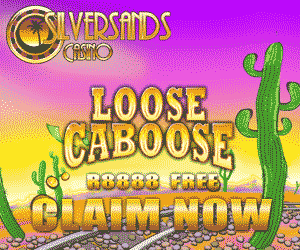 Volatility: High
Theme: Cartoon Railroad
Number of Lines: 25 Lines
Slots Feature: Cash Train Feature
Substitutle: Engineer
Jackpot: Random
Scatter: Yes -Caboose
LUCKY TIGER GAME SUMMARY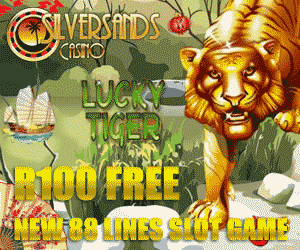 Volatility: High
Theme: 2010 Year of the Tiger
Number of Lines: 88 Variable Lines
Slots Feature: Lucky Tiger, Gong or Fortune
Substitutle: Golden Tiger
Jackpot: Local Progressive, Random (Minor, Major)
Scatter: Yes – Gong
PAYDIRT GAME SUMMARY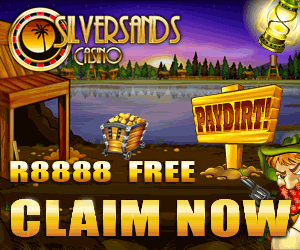 Volatility: Very High
Theme: Gold Minor
Number of Lines: 25 Lines
Feature: Gold Rush, Gold Fever or Strike It Lucky
Substitutle: Gold Nugget
Jackpot: Local Progressive, Random Pick
Scatter: Yes – Paydirt Sign
Remember that just in case you wish to skip downloading the proprietary Silversands software, you also have the option to play directly on the website interface! There is no differences in game quality, things will continue to remain just as fun. Added advantages include friendliness for Firewalls along with Antivirus protection. Also, just as in the case of the software, here too you can either play for free or with real money.
Silversands Online Casino is available for both Mac and PC interfaces.
You also have the freedom to enjoy Silversands Online Casino on the go by playing its games on your mobile.
You need to be 18 to play at Silversands Online Casino.